Prevention and maintenance, Tips and advice, Health and safety
Fall prevention: safety standards for working at heights
Falling from heights is the main cause of accidents at work. On average, there are 845 falls (French only) from a ladder or stepladder per year. As an employer, you must take concrete measures to protect your employees and prevent falls for all work that is performed more than 3 metres above the ground, even if you use scissor lifts. This is a requirement of the Commission des normes, de l'équité, de la santé et de la sécurité du travail (CNESST) (French only). Here is a list of recommendations to prevent falls as well as various standards to be respected when using aerial lift platforms.
Planning work at heights
Planning work at heights takes place in 3 steps:
1. Eliminate the risk of falls
If possible, eliminate all work at heights that can be done on the ground beforehand. You will eliminate the problem at the source, your employees will be more comfortable and they will also work more efficiently. Also, take low heights into consideration. Sometimes accidents happen even if your employee is only a few steps up.
2. Prevent falls
If it's not possible to eliminate work at heights, you must prevent falls by installing collective protection devices designed to protect all your workers. For example, by installing guardrails (fence, life line, extendable barriers, etc.).
3. Limit falls
The use of a scissor lift or a boom lift is the best solution to prevent falls when working at heights. To comply with standards for usage of boom lift, all workers must wear a safety harness attached to an anchoring system when they get on board. On a scissor lift, wearing a safety harness is strongly advised.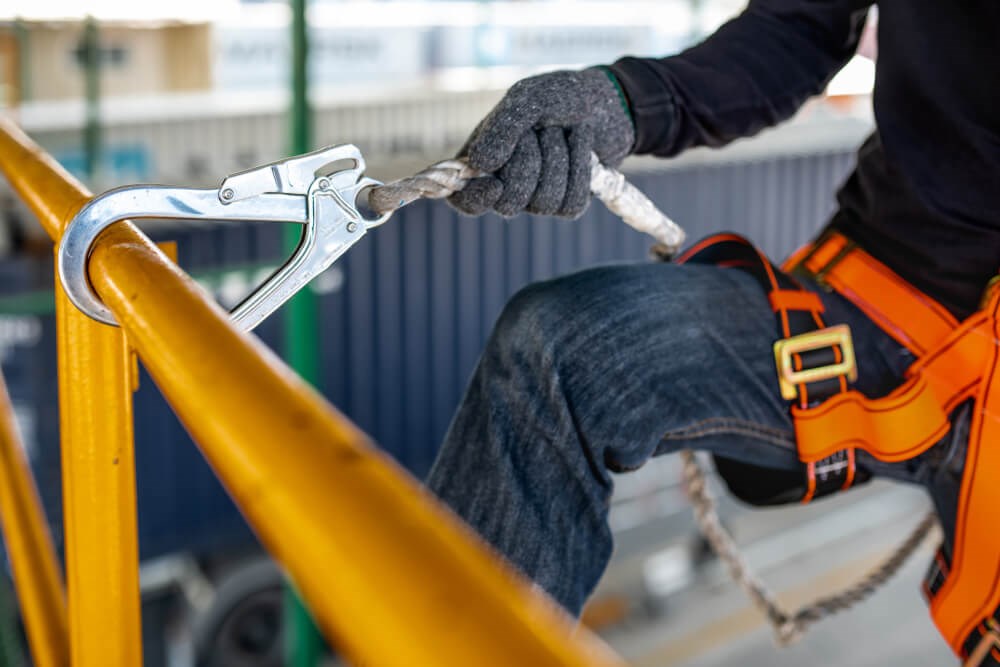 Implementing a fall prevention program
As with theft prevention, you must create a strong corporate culture of health and safety at work. Organize regular meetings to talk about fall prevention and raise awareness among your employees about the proper use of aerial work platforms. Also involve your employees in fall prevention and give regular reminders to ensure that all your employees respect the standards and rules regarding safety at heights. Also, post reminders with safety rules near the controls or aerial lift equipment. Safety is everyone's business. As an employer and as employees, all will be proud to contribute to the implementation and respect of standards for the use of scissor lifts and boom lifts.
Scissor lift and boom lift: a profitable investment
Benefits for your employees
Your employees will feel safer and will be more inclined to go to work for your company if you have lifting equipment rather than just ladders and scaffolding. They also are always in the right position and at the right height to work.
Scissor lift or boom lift:
Helps keep your employees in better physical health
Reduces the risk of accidents
Permits your employees to have their hands free to work
Encourages your employees to work faster and more efficiently
Is safer than a ladder, stepladder or scaffolding
Allows you to have more materials and tools close at hand (while respecting the weight limitations of the scissor lift or boom lift)
Financial benefits for you
In addition to being safe for your employees, the scissor lift or the boom lift offers you several logistical and financial benefits:
You lose less work time because your employees are safer and have fewer accidents.
You save on training new employees to replace those who are injured, and you can focus your efforts on fall prevention while working at heights.
You have better employee retention. Because a scissor lift or boom lift is less physically demanding to use than a ladder, your older and more experienced employees will continue to work for you and extend their careers.
You improve employee productivity. They waste less time moving up and down materials one at a time on a scaffold, ladder or stepladder. You can complete your contracts faster and increase your profits.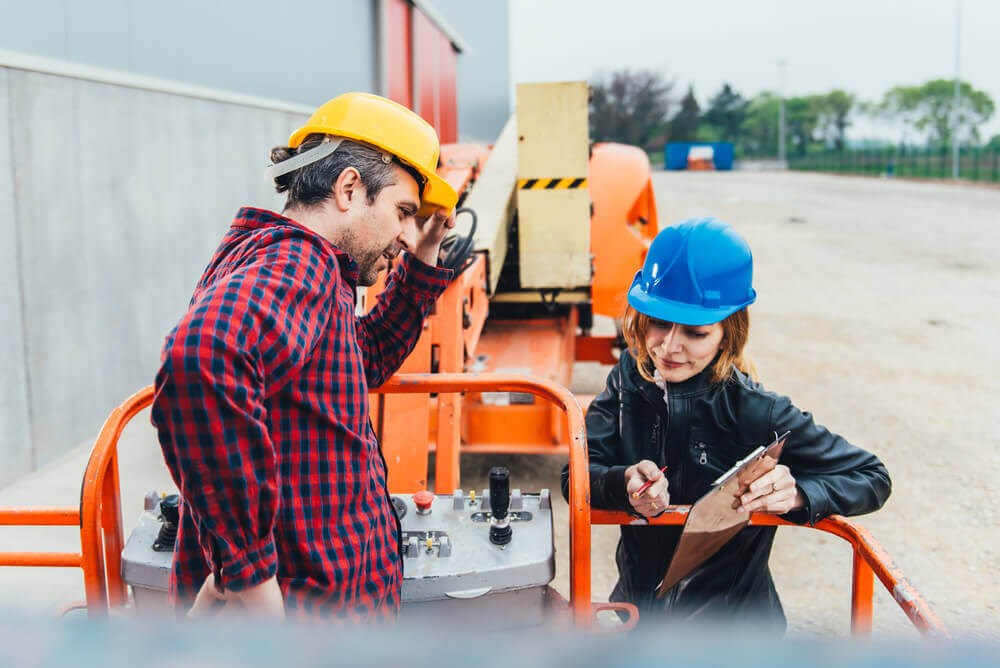 The use of a ladder or stepladder: a temporary solution
A ladder or stepladder is handy for small jobs around the house, but when it comes to safely working at heights daily, its use is not recommended. The ladder or stepladder should only be used as a means of access to a space at heights. With this equipment, you must always respect the rule of three points of support: two feet and one hand, or one foot and two hands on the steps. In addition, this equipment prevents the worker from being comfortably positioned and having both hands free to perform all these tasks.
The Faraone aerial lifts perfectly replace a ladder or stepladder. They are equipped with maintenance-free batteries, move quickly and safely and offer increased stability to the user. We have several models available and our experts will be able to advise you on the one that best suits your needs and your environment.
Standards to be respected with indoor scissor lifts
Required scissor lift equipment
All our scissor lifts and boom lifts comply with current safety standards. They all have:
A guardrail with an intermediate rail and a baseboard at the bottom
A non-slip floor
Two control consoles: one unit within reach of the operator of the equipment and a lower unit with control priority
A clear user guide with information on nominal loads and operating characteristics
Anchor points to attach safety harnesses
An emergency stop device
A warning device that automatically triggers when the platform incline endangers the user
An alarm during movement, ascents and descents
A strobe light that attracts attention when the equipment is on
Required equipment for your employees
To use a scissor lift or boom lift, your employees must wear some personal protective equipment:
A safety helmet
Class 1 safety shoes
Fitted garments with no floating parts to prevent contact with moving parts. They should also fully cover the torso and back.
Regarding the safety harness, all employees on a boom lift must wear one that is attached to a fall arrest system. On a scissor lift, the harness is not mandatory, but it is strongly recommended.
Your employees must inspect their safety harness and the lifting equipment before using them. They will be able to check for compliance and detect any breakage before they go up. Also, you must have all harnesses and lifting devices checked once a year by the supplier: this is required by law.
Recommended equipment for your employees
Depending on the environmental conditions, your employees are strongly recommended to use some additional personal protective equipment during their work:
Safety glasses
Hearing protectors
Respiratory protection device
Gloves
Rain clothes
Portable radio for easy communication with employees on the ground
Etc.
We also strongly suggest the use of cones, warning tape or fencing to delineate and protect areas where aerial lift equipment is in operation.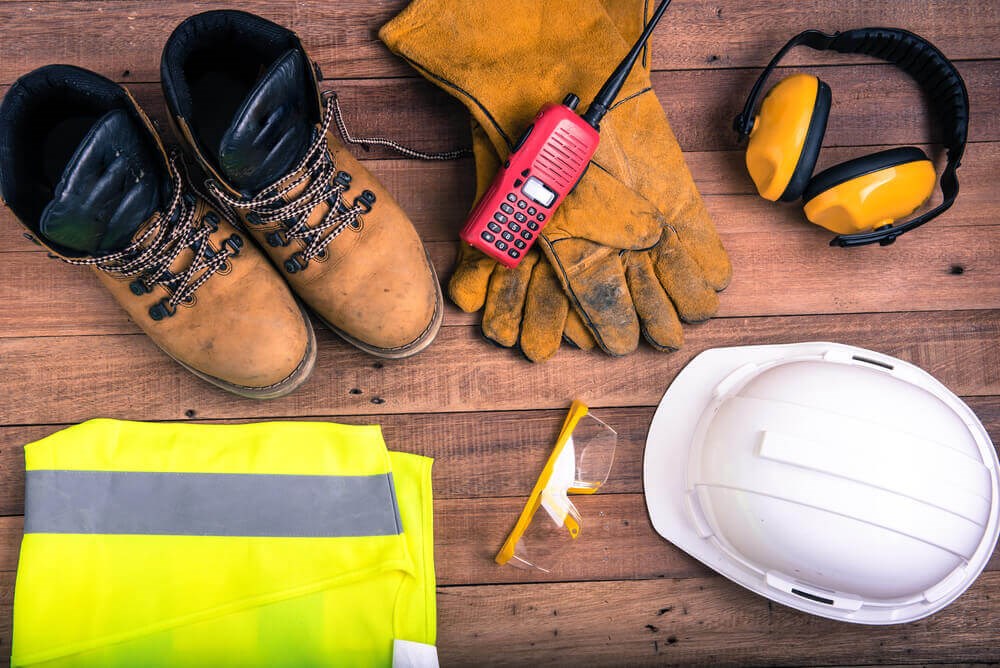 Cisolift: expert in aerial lift equipment
Optimize your employees' safety now and prevent falls by using a scissor lift or boom lift. Our experts are here to advise you in choosing the equipment best suited to your projects. Our large inventory of new or used lifting equipment with warranty will meet all your needs.